The SDSS has used thousands of plug plates in its fourteen year history. These are large aluminium plates into which tiny holes are drilled. Each hole has an optical fibre plugged into it (by hand by our plate pluggers). Each hole corresponds to the sky location where there is an object (a star or a galaxy) which SDSS wants to measure a spectrum for.
During SDSS spectroscopic observations, between six and nine of these are used every night. Each plate is custom drilled for a special part of the sky (about the size of your palm stretched out at arms length), and once all the data is collected for the astronomical objects in that plate, it becomes surplus to requirements.
All SDSS Collaboration members can request that used plates be sent to them (contact your Collaboration Council Representative for assistance with this). This has resulted in some interesting uses for the leftover plates across our diverse collaboration.
You might like to mount your plates on the wall for display.
If doing this, it is helpful to have a good description as a guide. This is especially helpful if you are donating a plate to a local science museum or other location away from SDSS collaboration members who know what it is. The example below was made for a display of plate 825 by Jordan Raddick from Johns Hopkins University in Baltimore.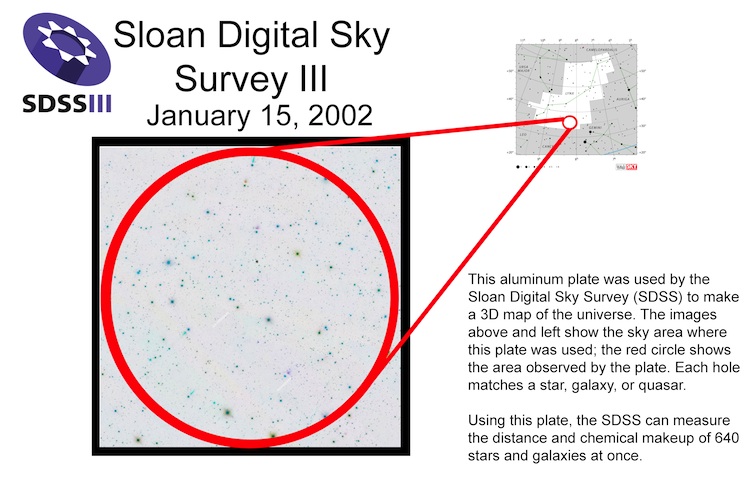 To make a version of Jordan's information sheet tailored for your own plate you can find the sky co-ordinates of your plate in this List of plate observation dates and centres. Then visit the Skyserver Navigate Tool to find an image at this location. You will likely want to invert the images, zoom out to the second largest scale, and overlay the plate location (all under "Drawing Options" to the right of the screen). You can then use Google sky to work out roughly which constellation this plate is in (unless you happen to know!), and the constellation maps are available from the IAU. To convert the MJD of observation to something understandable you might like this MJD converter.
We have a second example of plate display information from David Kirkby at UC Irvine. Here David has made an overlay of the SDSS imaging and coloured marks corresponding to the holes in BOSS plate 6640 (green for galaxies and purple for quasars), as well as an 3D representation of the distances to these objects (based on their SDSS measured redshifts).
It's possible to back light wall mounted plates in some circumstances, to really nice effect. The below example was made by Mark Klaene at Apache Point Observatory.
If you're lucky you might find a natural source of light for this effect, as in this example where Stephen Bailey from LBL has mounted a plate in the window in his office door.
Several collaboration members have used plates to make special coffee tables, or coffee table covers.
The most basic version of this is just placing a plate on top of a round coffee table of similar diameter.
This second one uses a 36″ round glass top table topped with a plate. Bumpers have been added to the plate and the normal glass top placed on top of it. The lighting shown below is from a single puck from a modular LED lighting system.
At JHU they have made two coffee tables with the SDSS plates. The base is a hollow box made from scratch of four wood pieces and there is a lamp inside so at night you can see the light shining through the slits.
Plates have also been used to make lab demos. The below is an example set up which LBL has to give quick demos.
SDSS plates have also been used to make works of art. The most well know is work by Josiah McElheny in collaboration with David Weinberg (also described here and in this NYTimes Article).
Sarah Ruether, an artist from Seattle and London based artist Xavier Poultney have also made artwork using plates.
If you have other examples of interesting uses of SDSS plates please let us know about them by commenting below, or emailing outreach@sdss.org.
See how the plates are drilled at the SDSS Plate Drilling Labs at the University of Washington in Seattle:
[youtube https://www.youtube.com/watch?v=iYyO7pGaJNw]
See how the optical fibres are plugged into a BOSS plate by our awesome SDSS plate pluggers (at Apache Point Observatory): [youtube https://www.youtube.com/watch?v=i6ZOUDWRwtg]